About the Program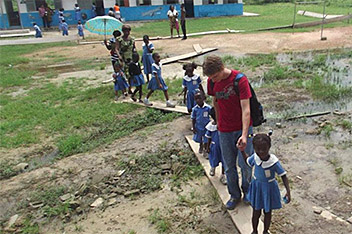 The mission of the theology and ministry department is to cultivate, equip and nurture faith in Christ through a critical yet worshipful engagement with Scripture that prepares future leaders to minister in a variety of contexts to the glory of God the Father, the Son and the Holy Spirit.
Since the study of Scripture not only stands at the center of the Christian tradition but also occupies the core of a Christian liberal arts education, our program aims to provide a foundational understanding of the Bible and theology. We assist students to grow in their knowledge of God's word through the content of the Old and New Testaments, grappling with fundamental theological issues in Christian doctrine, church history, learning biblical Hebrew and Greek, interpreting the specific books of the Bible in their original context, and gleaning wisdom and experience from practical ministry classes in a wide array of areas such as youth, missions, worship and urban ministry.
This biblical and theological foundation is laid through various concentrations that we offer, such as Old and New Testament in our Biblical studies major, Youth Ministry, Missions, Worship Arts and Urban Ministry in our Christian ministries major. While the goal of these concentrations is to help each student be faithful to God in their particular calling, the end goal for every student remains the same – to grow in grace and glorify God by loving Him with all of their heart, soul, mind and strength in preparation for a lifetime of joyful service and sacrificial ministry toward others.
Concentrations

Faculty

What Can I Do With This Major?

Go to seminary
Become a minister or pastor
Christian camp counselor
Christian school administrator
Children's ministry
Missions
Inner-city missions
Worship leadership
Youth ministry
Publishing

Sample Courses

Extracurricular Activities

Jeff Darnaurer
Coordinator of the Youth Ministry Program

Tom Bronleewe
Pro-Rata Assistant Professor of Theology and Ministry

Dr. Roy Millhouse
Assistant Professor of Biblical Studies

Dr. Jacob Shatzer
Assistant Professor of Biblical and Theological Studies